Aba's Bagel Company
---
Drop by Aba's for quality bagels, breads, salads, sandwiches, pastries and schmear, made fresh daily. They take catering and wholesale orders too!
Hours & Reviews
Business Hours
Monday: 7:00 AM – 4:00 PM
Tuesday: 7:00 AM – 4:00 PM
Wednesday: 7:00 AM – 4:00 PM
Thursday: 7:00 AM – 4:00 PM
Friday: 7:00 AM – 4:00 PM
Saturday: 7:00 AM – 3:00 PM
Sunday: 8:00 AM – 3:00 PM
Reviews
98 reviews | 4.1

This place is great albeit pricey. I've been getting bagels from them since they were at their older location on eglinton closer to the Allen. They've got a nice bagel, not Montreal style but more doughy? Delicious regardless.
I'm not usually compelled to leave reviews but the bagels here are honestly pretty outrageous. Had the sesame bagel with salmon cream cheese and didn't expect to be so pleasantly surprised! The staff also seem lovely and had pastry samples out — I'll have to buy some next ...
Best bagel in town. Great service. Polite staff. Very fast and fresh. Make sure to ask them if you don't see what you are looking for. Best of the best!!!!!!!!!
Accessibility
Products & Services
Bagels, Schmear, Sandwiches, Breads, Pastries, Salads, Catering, Wholesale
Business Highlights
Family owned, Operating since 2005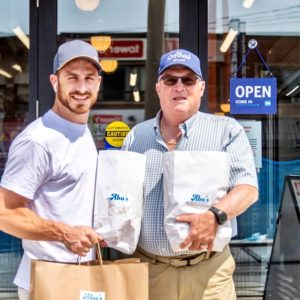 It all started in 2005, when Aba (you also know him as Arie) opened a What-A-Bagel in the heart of the Upper Village. Now operating as "Aba's Bagel Company," Arie and his son, Daniel, have delighted the Upper Village with quality bagels, breads, schmear and catering for almost 20 years. Arie proudly reminds us that he served his bagels at the bris and bar mitzvah of the same young man. It's safe to say Arie and Daniel are staple figures in our community!
Also in the Upper Village
A few businesses you may enjoy