Aba's Bagel Company
---
Drop by Aba's for quality bagels, breads, salads, sandwiches, pastries and schmear, made fresh daily. They take catering and wholesale orders too!
Hours & Reviews
Business Hours
Monday: 7:30 AM – 3:30 PM
Tuesday: 7:30 AM – 3:30 PM
Wednesday: 7:30 AM – 3:30 PM
Thursday: 7:30 AM – 3:30 PM
Friday: 7:30 AM – 3:30 PM
Saturday: 7:00 AM – 4:00 PM
Sunday: 7:30 AM – 3:00 PM
Reviews
106 reviews | 4.1

Friendly staff, delicious bagels, reasonable prices. Decent coffee, desserts, and other baked goods as well.
Best bagel in town. Great service. Polite staff. Very fast and fresh. Make sure to ask them if you don't see what you are looking for. Best of the best!!!!!!!!!
I love this place. The people that work there are super nice. You gotta pick your bagel and give it to the lady behind the counter for toasting/spreading/etc. Coffee is decent. It can get pricy if you get a sandwich like lox (smoked salmon) with all the toppings ...
Accessibility
Products & Services
Bagels
Schmear
Sandwiches
Breads
Pastries
Salads
Catering
Wholesale
Business Highlights
Family owned, Operating since 2005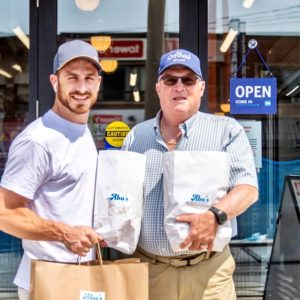 It all started in 2005, when Aba (you also know him as Arie) opened a What-A-Bagel in the heart of the Upper Village. Now operating as "Aba's Bagel Company," Arie and his son, Daniel, have delighted the Upper Village with quality bagels, breads, schmear and catering for almost 20 years. Arie proudly reminds us that he served his bagels at the bris and bar mitzvah of the same young man. It's safe to say Arie and Daniel are staple figures in our community!
Also in the Upper Village
A few businesses you may enjoy