Forest Hill Medispa
---
Our team of dedicated and trained professionals understand your needs and strive to deliver the highest standards of medical care to help you achieve elegant, youthful and natural beauty.
Hours & Reviews
Business Hours
Monday: 9:00 AM – 5:30 PM
Tuesday: 9:00 AM – 5:30 PM
Wednesday: 9:00 AM – 5:30 PM
Thursday: 9:00 AM – 5:30 PM
Friday: 9:00 AM – 5:30 PM
Saturday: Closed
Sunday: Closed
Reviews
16 reviews | 4.9

It was my first time visiting Foresthill plastic surgery. I had an exceptional experience, I had botox done by Nurse Courage she did such an amazing job and was very gentle with the injections. She was able to answer all the questions I had and I can't wait to ...
I had an appointment with Courage for filler and Dysport. She was extremely knowledgeable and tailored the appointment to my needs. She was super gentle and took her time to create a beautifully natural look. I'm super impressed with her work and the office overall is very clean and modern. ...
I recently had breast augmentation at this clinic. I spent a long time looking for doctors and even went to several clinics in the GTA to find one to do my procedure. It was challenging to find one because I found a lot of doctors I met were cold or ...
Accessibility
Products & Services
Chemical Peels;
CO2 Laser Skin Resurfacing;
Coolsculpting;
Derma Fillers;
Double Chin Treatment Belkyra;
Hydrafacial MD;
Hydrafacial Keravive;
IPL Photo Rejuvenation;
Liquid Butt Lift;
Microneedling;
Neuromodulator Injections;
PRP Hair Loss Treatments;
PRP Vampire Facial;
Sculptra;
Treatment for Excessing Sweating;
SkinCeuticals Skinscare Products
Business Highlights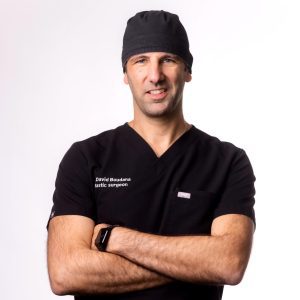 Dr. David Boudana practiced plastic surgery for over 13 years in Ontario & Quebec and is recognized as one of the top cosmetic plastic surgeons in the Greater Toronto area.
Dr. Boudana provides patients with the best care by giving using the latest techniques available while personalizing their care according to their wishes. He pays particular attention to detail to obtain the most harmonious and natural result.
Dr. Boudana is a board certified plastic surgeon and a graduate of the prestigious University of Paris Descartes (Paris, France), the University of Lille 2 and the University of Toronto.
Dr Boudana is a member of the College of Physician and Surgeon of Ontario, Collège des Médecins du Quebec, the International Society of Aesthetic Plastic Surgery (ISAPS), the Association des Médecins Spécialistes du Québec, the Société Française de Chirurgie Plastique et Esthétique and the World Association of Gluteal Surgeons.
Also in the Upper Village
A few businesses you may enjoy