Marron Bistro
---
Fine-dining, innovative kosher restaurant with a warm, intimate vibe. The Great Kosher Restaurant Magazine declares Marron Bistro, "The best kosher restaurant in Canada"
Hours & Reviews
Business Hours
Monday: 5:00 – 10:00 PM
Tuesday: 5:00 – 10:00 PM
Wednesday: 5:00 – 10:00 PM
Thursday: 5:00 – 10:00 PM
Friday: Closed
Saturday: Closed
Sunday: 5:00 – 10:00 PM
Reviews
150 reviews | 4.7

We kicked things off with their mouthwatering chips and chumus combo, which paired perfectly with a glass of wine. And oh boy, those chicken wings were out of this world! They were so darn amazing, we practically fought over the last one. Now, the cauliflower wasn't exactly our cup of ...
Need to take some clients out of the city to a nice kosher restaurant - this place was highly recommended. Our experience over all is good, the environment is cozy and comfortable; not like many other dinner place thus restaurant os not loud. food is excellent; all of us give ...
One of the best meals I probably ever ate! Truly fine bistro dining. The shakootery board was fantastic, my aged steak was cooked to perfection, my wife's flatbread were delicious and the desserts of tiramisu cake was fantastic! I highly recommend treating yourself here.
Accessibility
Products & Services
Kosher Fine Dining; Private Functions; Catering; Cocktails; Flavours from Around the World
Business Highlights
Kosher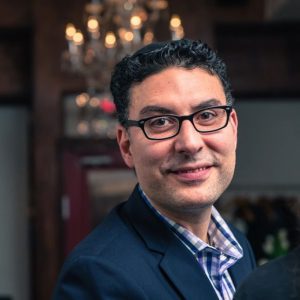 Raised in Caracas, Venezuela, Armando Cohen is the restaurateur of Marron Bistro as well as D-Lite's: specializing in modern sushi and dairy cuisine. While he hails from New York, it was in Israel and Canada that he mastered the fine dining scene. He has been sharing his entrepreneurial vision for almost 20 years. Although he remains true to his Moroccan and Latin American roots, his success comes from the seamlessness in which he incorporates flavours from all over the world.
Also in the Upper Village
A few businesses you may enjoy