Popeyes Louisiana Kitchen
---
Today: 11:00 AM – 1:00 AM
Famous for their Louisiana spicy fried chicken and biscuits since 1972.
Hours & Reviews
Business Hours
Monday: 11:00 AM – 12:00 AM
Tuesday: 11:00 AM – 12:00 AM
Wednesday: 11:00 AM – 12:00 AM
Thursday: 11:00 AM – 1:00 AM
Friday: 11:00 AM – 1:00 AM
Saturday: 11:00 AM – 1:00 AM
Sunday: 11:00 AM – 12:00 AM
Reviews
98 reviews | 3.7

I needed to take out a lot of food for the party, and there was only one staff, so it took me a while to wait. I ordered almost all of their items (fried chicken, chicken burgers, chicken tenders, chicken nuggets, popcorn shrimp, fish and pie) and personally love their ...
The golden-brown breading is sand-fine, lightly crispy, well-seasoned, and appropriately crumby—and the breading-to-filling ratio is spot-on. Breading is easy to get right, though. What about the actual chicken 🍗 filling? Home run. Like, my first bite was so similar to what I remember the real thing tasting like that I ...
Came in for the new chicken wrap and they said it would take an hour to cook? Really, pretty sure it takes 10 mins max to throw the chicken in the fryer. Walked out and went to subway 🤷‍♂️
Accessibility
Products & Services
Chicken Burgers
Wings
Tenders and Wraps; Fried Seafood; Fries; Biscuits; Pies; Take-Out; Dine-In; Delivery
Business Highlights
The first Popeyes opened in New Orleans, Louisiana in 1972.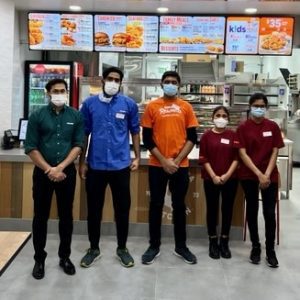 Also in the Upper Village
A few businesses you may enjoy